Mayflower Bioscience has a close collaboration with an HTA-licensed clinic, dedicated to the collection and processing of human whole blood for research purposes.
Peripheral blood mononuclear cells (PBMC) are a heterogenous mix of white blood cells each having a round nucleus. PBMCs are widely used in research and provide a useful tool for studying a broad range of immune responses in vitro.
Our frozen human PBMC stock provides researchers with high post-thaw viability PBMCs whenever their research demands. PBMCs are isolated within 5 hours of blood collection using the standard Ficoll density gradient centrifugation method, then immediately diluted to 25 million cells per ml and frozen at -80oC in CryoStor® cell cryopreservation media. Stock sizes of 10 million, 25 million, 50 million and 100 million cells are available.
Research has shown that PBMC quality of cell recovery and viability as well as functionality (e.g. cell-mediated immune responses) is higher when the time to process PBMCs from whole blood is short (less than 7 hours); Bourguignon, P. et al; Jour. of Immunological Methods 414 (2014), 1-10.
Benefits of our PBMC service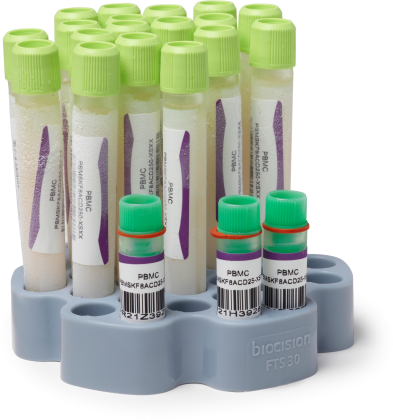 • Frozen PBMCs delivered on dry ice across USA and Canada
• PBMCs batch-tested negative for bacteria and mycoplasma by PCR
• Guaranteed processing and freezing within 5 hours of collection of blood
• Variable sizes available
• Large donor pool
• Comprehensive donor information provided
• Serology screening prior to dispatch
• Samples fully consented including for genetic analysis and commercial research purposes
• HLA typing available on request
Contact our blood specialists
To request a quote or find out more, please contact our blood specialists.
These products are for research use only and not for any human diagnostic or therapeutic use. It is your responsibility to ensure that you have necessary licensing and ethics approvals in place for the use, storage and disposal of any human tissue related material supplied by Mayflower Bioscience.
In this section